Figurine Pop Mexicaine Rosa Around the World
17 octobre 2021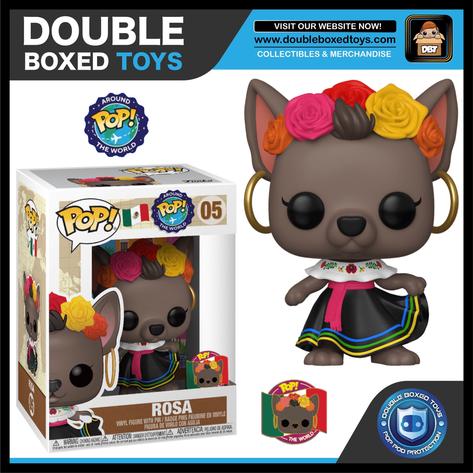 Funko POP ! Around The World #05 Rosa (avec pin's) – Exclusivité limitée de Funko Shop

Freddy Funko a voyagé dans des endroits incroyables autour du monde et s'est fait beaucoup de nouveaux amis. Rosa est une Xoloitzcuintli (ou Xolo) du Mexique. Laissez-la vous faire découvrir les incroyables attractions du Mexique ! Ramène chez toi ce Pop ! Around the World with Pin et ajoutez-le à votre collection dès aujourd'hui ! Il s'agit d'une édition limitée de Funko Shop.
Livré avec l'épingle correspondante !
Figurines FUNKO POP de la collection « Around the World »
Around The World est une ligne POP lancée en 2020 mettant en scène les amis de Freddy Funko dans différents pays du monde. Funko rend hommage aux fans des différents pays où les figurines POP sont distribuées, tout en faisant un clin d'œil aux cultures et traditions de chaque pays.
Chacune des figurines POP Around The World met donc en scène un personnage, généralement issu du monde animal, à l'image d'un pays. Elles seront dévoilées une à une par Funko chaque mois. Pour le mois de janvier, la collection débute avec Barkingham le bulldog anglais !
Une autre des particularités de ces nouveaux POP exclusifs à Funko est qu'ils sont accompagnés d'un sapin qui met en avant le drapeau du pays. Les fans pourront collectionner les figurines ET les pins qui sont facilement collectables dans un passeport Funko qui comporte 12 emplacements pour chacun des pins.
Chaque figurine est un ami de Freddy Funko, ce qui permet d'élargir les personnages de l'univers Funko, d'autant plus que les figurines sont toutes très attachantes dans leurs costumes typiques. Une belle occasion de voyager à travers sa collection POP !
POP Funko Around The World Mexico
Caractéristiques de la figurine Pop mexicaine Rosa
Pop ! Around the World : Mexico
Condition « MINT » garantie
Les figurine Funko Pop sont livrées avec une protection anti-pop très résistante de 0,5″ mm
3 3/4″ de hauteur
Vinyle par Funko
Autocollant de partage SDCC 
Achetez sur Amazon
Découvrez vite sur Amazon, la figurine pop mexicaine Rosa de la collection Around the World (Funko Pop #05).